The Metconnex Case
Jeremy Pitcock was lead counsel in a case that resulted in an unusual result – the company that was sued went out of business.

First, Jeremy Pitcock and the other attorneys working on the case needed to understand the technology. These technical concepts then need to be explained to a judge, and ultimately, to a jury. Generally, federal judges and juries do not have any relevant technical expertise.

In order to explain simply and effectively the function of the MEMS technology at issue, video animations were created, examples of which are reproduced below. One of the critical issues in the case was demonstrating that the springs expand when the MEMS moved via the electrostatic actuators.
Moreover, the evidence needed to be used to persuade the other side regarding the merits. While hiring and utilizing top notch experts is a prerequisite for success, another critical component of any case is the ability to effectively cross-examine the other side's experts. Reproduced below is a redacted excerpt of a deposition taken by Jeremy Pitcock of the Metconnex expert wherein the expert admits that he cannot explain the operation of one of the critical items of prior art cited in his report.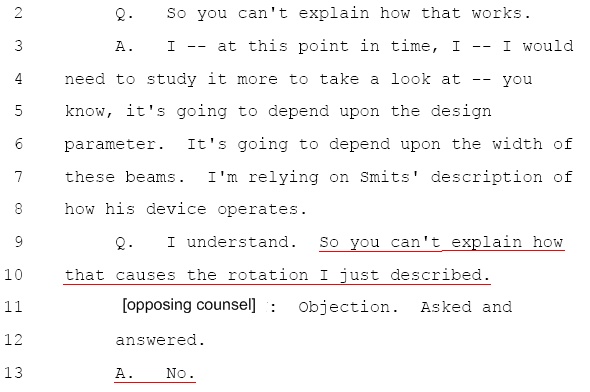 The ability of the team to effectively explain the technology combined with our legal strategy helped lead to the uncommon result in this case.