Jeremy Pitcock
Jeremy Pitcock's current practice involves counseling clients in all areas of intellectual property, with a particular emphasis on patent litigation.
Experience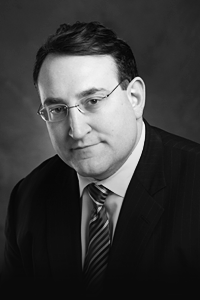 Jeremy Pitcock serves as lead counsel on a variety of patent matters, and has been involved in all aspects of trial and appellate practice before federal courts throughout the country. He has successfully argued all phases of litigation including at trial and at various summary judgment and Markman hearings, in diverse fields such as, Internet and mobile technology, authentication and encryption, fiber optic networks and various optical components, network and microprocessor architecture, computer software, Ethernet routing and communications, semiconductor manufacturing and fabrication, pharmaceutical inventions and business methods. Jeremy Pitcock also has served as lead counsel in copyright (including computer-related matters), trademark and trade secret litigation.
Education
University of Pennsylvania Law School, Juris Doctor, 1998

Public Service Award – U.S. Attorney's Office

Massachusetts Institute of Technology, Bachelor of Science in Physics, Minor in Literature, 1994

Editor, Intermediate Astrophysics (graduate-level text by Prof. Hale Bradt)

Teaching Assistant, Special Relativity (taught by Prof. Alan Jaffe)

Captain, Varsity Football Team – 1st Team All Conference
Recent Lead Counsel Representations

Personal Audio v. CBS. Lead plaintiff's counsel in a patent case involving Internet distribution of content in the Eastern District of Texas. Mr. Jeremy Pitcock recently obtained a complete jury trial victory for his client Personal Audio against the television network CBS. After deliberating for only a few hours, the jury returned a verdict of patent infringement and upheld the patent's validity against the defendant's claims of anticipation and obviousness. Prior to trial, Mr. Pitcock had successfully argued to keep the case from being transferred out of Texas, and received a favorable Markman decision in the case.
Antec v. Streak Products. Lead counsel in patent reexamination proceedings seeking to invalidate all claims in a computer power supply patent. Last year, the Board of Patent Appeals confirmed the invalidity of all claims of the patent at issue, which involves power supplies for personal computers.
Intergen v. GoIP Global, et. al. Lead counsel for defendants in patent infringement and trade secret case involving text and Internet technology with counterclaims. After a successful Markman hearing, the case settled on favorable terms.
Selected Speeches and Publications
Patent Injunctions Are No Longer Automatic, But Only "Patent Trolls" May Lose The Power Of Injunctive Relief In Practice (Authored client memo)
Answers To Frequently Asked Questions About Intellectual Property And How To Avoid Common Mistakes When Obtaining A Patent (Drafted Powerpoint presentation and gave lecture to MIT Mechanical Engineering Honor Society in Cambridge, MA)
Patents: Section 112 and New Developments in Software/Business Method Patents (Drafted presentation and gave lecture as part of the Annual Conference on Intellectual Property Litigation for Law Seminars International in San Francisco, CA)
Business Method Patents (Drafted presentation and gave lecture as part of Law Seminars International Program entitled Doing Business Online: U.S. and Canada in Vancouver, BC)
Protecting Your Invention: How To Obtain A Patent While Avoiding Patent Pitfalls (Drafted presentation and gave lecture to MIT Mechanical Engineering Honor Society in Cambridge, MA)
U.S. Business Method Patents and Their Impact On Japanese Corporations (Drafted presentation for lecture given to The Japanese Institute of International Business Law)
Describing Software Inventions Under 35 U.S.C. § 112, First Paragraph (Drafted presentation for lecture at Stanford University forum)
Professional Credentials
Admitted to New York State (1999); Registered -- United States Patent and Trademark Office (2001); Southern District of New York (2003); Eastern District of New York (2003); Federal Circuit Court of Appeals (2007).